IVPN for macOS
View source on GitHub
SHA256 Intel: 52fc8838cdde376d89ebb718494771da84d1ded18632780a4172888c132efaa4
SHA256 Apple Silicon: 5699ef5702970e6310f1bafe3a77ad3b1e4e6f4292c3396d0b0b2c6162893036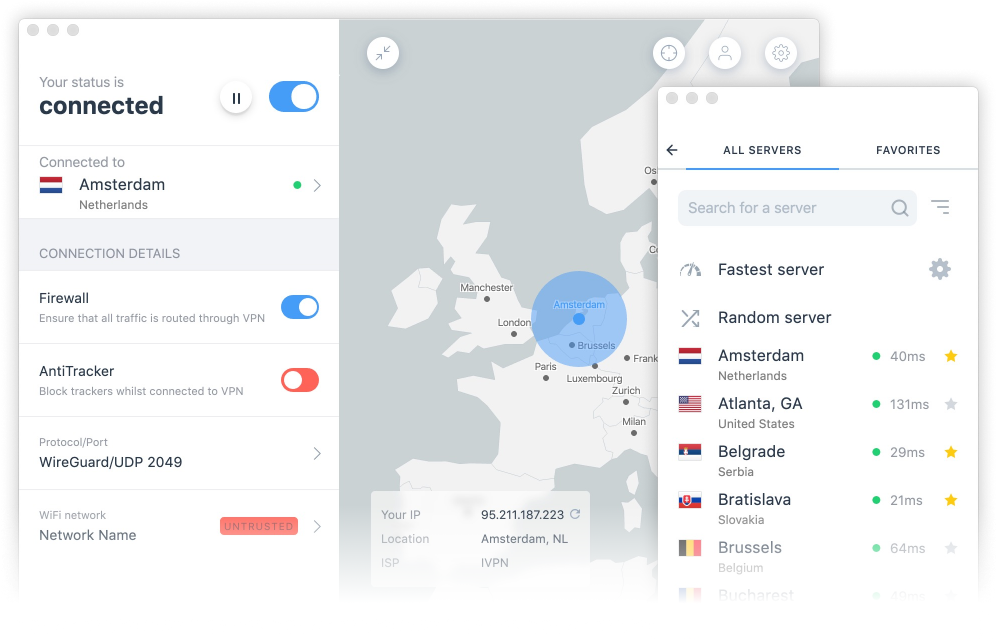 Features
Supports WireGuard or OpenVPN protocols.
Supports GUI or CLI (command-line interface).
WireGuard privacy controls - Define automatic key and IP address rotation schedule.
AntiTracker that blocks ads, adware, malicious websites and data harvesting trackers.
Firewall / killswitch - Ability to configure as on-demand or always-on. Offers comprehensive protection against DNS, IPv6, disconnection and WebRTC leaks.
Ability to define trusted Wi-Fi networks and create rules for automatic VPN connection/disconnection.
Multi-hop VPN routes. Connect through multiple servers in separate jurisdictions for enhanced privacy.
Allow LAN traffic when connected to VPN.
Pause VPN for when disabling VPN connection temporarily is required.
Obfsproxy option to circumvent censorship.
Custom DNS servers, with DoH.
Auto-update.
Auto-connect on launch / on joining insecure Wi-Fi.
Manual configuration
If you prefer not to use the IVPN app please follow the relevant setup guide below.
Download legacy version
Download IVPN-2.12.17.dmg
SHA256: 0fd09967482f53c801dc55eaf23a88ad341da37f58d70d9c9e24c2e5aeb36c22
Spotted a mistake or have an idea on how to improve this page?
Suggest an edit
on GitHub.